Testimonials.
Dear Solar Edwards Adelaide
You installed a 3 kW system on my roof last year. I thought you might be interested in the reduction in use from my AGL account.
Kind regards
Rob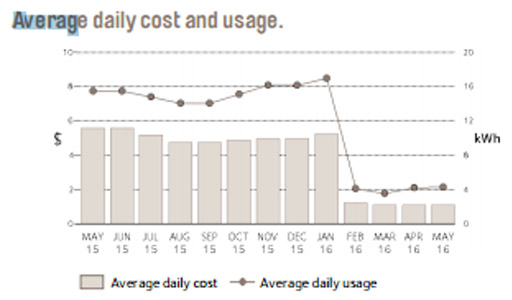 ---
"Thanks Malcolm,
Likewise it's been a pleasure and privilege to engage the services of your company when the HWS units first presented us with problems… it would have been so easy to take advantage of the situation knowing we were like "ducks out of water" and completely out of our comfort zone concerning this equipment…..which in one way is an excellent recommendation for the longevity and robust construction of the product. Prior to HWS No:9 failing I believe there were no maintenance strategies in place whatsoever… we never seem to have any issues with these units until the coils started failing.
I hope whoever takes my place treats you guys with the same professionalism that I have tried to show…
All the best for the future
Regards
Jerry Tatchell
Central Maintenance Services
FM Services (Building Maintenance)
BHPBilliton – Olympic Dam
---
"System Solutions Engineering have been actively involved in the implementation of green energy solutions including solar thermal assistance to domestic warm and hot water services, predominantly in the sectors of Health and Aged Care. Many of our projects require extensive feasibility and life cycle justification for funding and Solar Edwards Adelaide have provided extensive design assistance and product knowledge, as well as as-installed technical information for existing sites for warm & hot water systems for many prominent projects in SA to facilitate our pre-design processes.
We will continue to utilise the services of Solar Edwards Adelaide in the area of solar assistance and domestic warm and hot water systems in the knowledge that they can continue to provide advice on system design, budget pricing as well as ongoing technical support for solar, warm water and hot water systems.
The systems designed and documented by our office and taken through to construction have proven to meet or exceed the expectations of our initial feasibility studies in all cases."
Brad Maynard
Managing Director
System Solutions Engineering Pty Ltd
---
"Just a short note to say how happy we are with the Solar Edwards units that you supplied and installed. The complete system has functioned perfectly supplying hot and warm water to the entire site at the Hospital.
We have been very happy with the after sales service and the ongoing maintenance involved, not to mention your expertise regarding Legionella Compliance. The instant-heat units combined with the Solar Panels have shown enormous savings in fuel costs.
It has been a pleasure to work with you and all of your team and I would not hesitate to recommend you to anyone.
Thankyou and keep up the great work."
Rod Cornelius
KI Health services
Kingscote Hospital
---
"Frustrated with our increasing electricity bills my wife and I recently purchased a 5Kw Solar System from Solar Edwards Adelaide. We found their sales people to be very informative and professional as they were happy to explain their range of systems and the benefits we would gain. Along with their sales people the installation was completed promptly and professionally – they were in and out within hours.
The whole team from Solar Edwards were great to deal with and we were very comfortable with our decision. We can now enjoy the benefits and no longer fear opening that dreaded electricity bill.
Thank you"
Martin & Kim Shreeve – Sheidow Park
---
"Solar Edwards are fantastic; they don't give you any guff, try to hard-sell you, or rip you off. Malcolm Dohnt explained all the government rebates available, discussed our needs and recommended the unit that suited our purposes – not the most expensive one.
The fact that they are a major player, with SA Govt contracts for parliament house PV and rural hospital solar, reassures us that they will still be around down the track if anything goes wrong. When we had a warranty problem with Mum's PV inverter, Solar Edwards chased the manufacturer so it was fixed in 7 days rather than the "at least 3 weeks" the manufacturer had told us.
Not only were they were there when they said they would be, so we had the minimum time off work, but the boys cleaned up after themselves.
We recommend Solar Edwards to everyone; they are the best tradespeople we have ever dealt with!"
Michele and Wayne Southam
---
"Ceduna District Health Service have a Hot & Warm water system designed & supplied by Solar Edwards Adelaide. It is a gas backed sola plant that works efficiently & simply these guys provide a good service and are always available for advise when needed."
Jeff Riddle
Maintenance Supervisor
Country Health SA Local Health Network
Ceduna District Health Services
---
"We have had a solar voltaic system, installed by Solar Edwards Adelaide, in operation for more than 2 years.
We have found the Solar Edwards Adelaide System very efficient, which has saved us an enormous amount of energy (having been in a credit situation with our energy retailer for some time), as well as being environmentally friendly.
We encourage all South Australians to install a Solar Edwards Adelaide Solar Voltaic System to reduce energy costs and "
Necia from Hackham
---
"My husband and I have had a Sola Edwards Adelaide electricity grid system on the roof for over 12 months now, and we are thrilled with it. Our electricity bill is now in credit and we feel we are trying to help the environment.
Our neighbours were also very interested in buying one and after having a chat to us and speaking to the very helpful salesman at Solar Edwards, they have one installed on their roof too. I cannot speak highly enough of the system or the salesmen."
Linda from Morphett Vale
---
"I was very confused with theamount of information out there on solar systems.
I called Solar Edwards Adelaide and they came out promptly on time when they said they would. They talked me through the whole solar package in a plain easy to understand way."
Garry from St Marys
---
"I just wanted to drop a line to say thanks for the very prompt service we recieved about 2 weeks ago when our hot water service needed a little fine tunning.
The hot water is great, we haven't run out once since, so it is working perfectly off Solar, and off the grid. We are very pleased with the solar hot water system and the outstanding service we have recieved both during installation and for the backup service we required 2 weeks ago.
I would not hesitate for a moment to buy an Edwards system again if I needed, nor would I hesitate to recommend Edwards to others."
Mark Kirchhoff from Morphettvale
---
"My family and I wish to pass on our many thanks for the great work from you and your team with the installation of our Edwards hot water system in our home. The system is excellent. It has dramatically improved our water flow and with two young children in our household we now have what seems like endless hot water. Not only do we have more hot water but we have already found that we have saved on our electricity bill. You and your team were quick and efficient, and always there to please, so please pass on our many thanks."
Nick and Stacey from Martin Hackham
---
"I am happy to provide a reference for Edwards for my L305 solar hot water service which I have had since approximately 2002. There have been no problems with it, and my neighbour bought one a couple of weeks after me, and my friend bought hers last year.
It's great to have lots of hot water to be able to do washing and we have never run out of hot water in the shower.
The best thing since sliced bread!!"
Mrs Linda Millwood Morphett Vale
---
"On the failure of my hot water unit I felt that this was my opportunity to make a contribution to our environment as we are a young couple with two very small children.
My priorities were:
Environmentally friendly in the reduction of green house gases
Energy efficient
Cost saving (thus reduction in energy used)
The Edwards unit that I had installed some three years ago has achieved all of the above.
At the current moment my husband and I are in the process of moving to a larger house for our growing family and we would definitely be contacting Solar Edwards Adelaide to install another Edwards Solar unit."
Mrs A Walker from Seacombe Heights
---
"I've had an Edwards L305 solar unit installed since April 1999 and since that time I've had no problems with it. It sits on the back roof which faces North and I would without doubt recommend to my friends getting one installed."
Garry Rowley from St Marys
---
"I would like to thank Solar Edwards Adelaide for the work that they put into helping me with the formation of my research project. As a part of my research project, I was required to get information from a number of solar panel companies, but the time and knowledge that they put into answering any questions that I had regarding solar energy was simply second to none. The information from other companies was, on the whole, quite brief, whereas Solar Edwards provided information that was not only well detailed, but easy to understand for the average person.
The information that they provided gave me a great understanding for what I needed to learn for my research project and provided me with many areas of research that I hadn't previously considered. Their commitment to helping me with my studies was far beyond what I was hoping or expecting and it was their information that provided the backbone of my information in my final report.
Without their help, I couldn't have obtained the A grade that I achieved for my research project."
Tom