Pump Packs, UV Systems and Shot Feeders.
Solar Edwards Adelaide has developed a ring main circulating pump pack which incorporates a dual set of UPS20-60N up to UPS50-120F/2B circulating pumps suitable for potable water installations. Manifolded with fully welded 316 Stainless Steel headers. Mounted on a non corrosive alloy backing plate. Auto operation with a 24 hour change over cycle. Manual override is possible to either pump.
This product has been developed to improve the efficiency and durability of the reticulation systems for hot and warm water installations. Fully assembled with single inlet and outlets for plumbers connections and a three pin plug suitable for a standard 10 amp GPO. Contingency is allowed for with duty and standby operation. Energy saving options are available with switch able return water temperature monitoring and 24 hour timer operations.
Voltage free contacts available on request for all B.M.S. applications.
CFG
GRUNDFOS UPS 20-60B
GRUNDFOS UPS 32-80B
FLOW RATE (Litres per minute)
No of Pumps
Duty & Standby
Single Service
Duel Service
Duty & Standby
Single Service
Duel Service
Min
Max
A
P
18
60
1
B
P
36
120
2
C
P
18
60
2
D
P
30
150
1
E
P
60
300
2
F
P
30
150
2
Model numbers
B2/20 (2x20mm pumps each on continuous service)
C2/20 (2x20mm pumps, duty and stand by operation)
E2/32 (2x32mm pumps each on continuous service)
F2/32 (2x32mm pumps, duty and stand by service)
Pumps
Grundfos UPS 20/60 N
Grundfos UPS 32/80 N
Larger sizes available on request.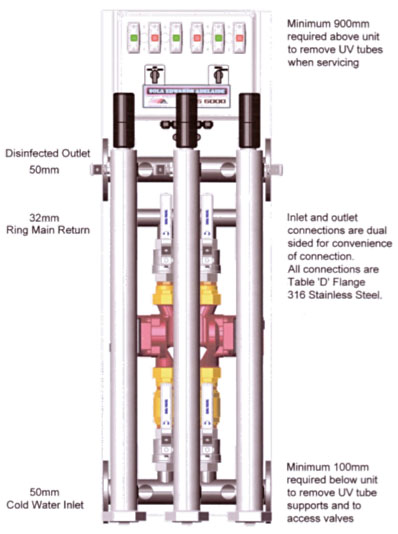 Solar Edwards Adelaide Ultraviolet Water Purifiers utilize germicidal ultraviolet lamps that produce short-wave energy which is lethal to bacteria, viruses and other micro-organisms present in the water

Shot Feeder, Dosing Pot
A non pressure vessel that is normally in an open vented situation. Can be used for the introduction of substances or gasses in to pipe work of systems.
Dimensions
Weights and Capacities
Over all width
215mm
Empty
5.3kg
Vessel width
102mm
Full
12.3kg
Length
1150mm
Full inc funnel
13.3kg
Depth
220mm
Canister
7 ltrs
Weight
4.5 kg
Filling funnel
1 ltr
Max operating pressure
1000kpa
Materials of construction
316 stainless steel canister, end caps, valves and fittings
2 piece full flow approved ball valves
304 stainless steel fixing brackets.

---